Image intensifier tubes (IIT) and Photomultiplier Tubes (PMT)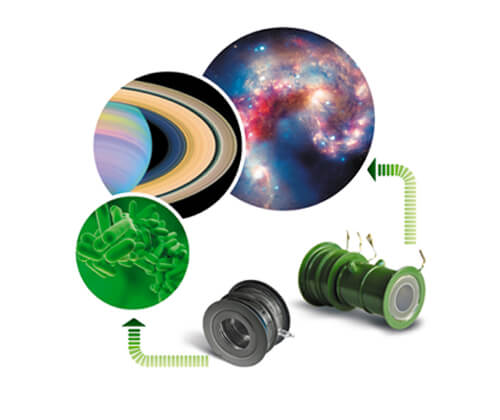 VTC "BASPIK" LLC produces Image intensifier tubes (IIT) and Photomultiplier Tubes (PMT) for scientific and technical equipment.
General application:
amplification of low visible signals and converting them into electron signals in high sensitivity instruments
UV radiation imaging and intensification.
General characteristics:

amplification from 1·107 до 1·1011
amplitude resolution from 50% tо 20%
total elimination of reverse ionic bond
response time
signal pickup and interpretation while registration process
visualization and digitization
Fields of use:
medical equipment
measurement equipment
ozone screen monitoring
fire-prevention monitoring
distance control of transmission lines
chemical analysis
UV-air photography for oil spill detection
scientific research
military hardware
agriculture research
criminal investigation

Advantages:
PMT and IIT are made of high quality components including MCPs of different configurations, sizes and technical parameters
provides operation in photon counting mode
heat-resistant at temperatures to 150°C
several include built-in high-voltage power supply, a circuit for protecting photocathode against high exposure rate, automatic screen brightness control
you can place an individual order for the detector which matches your device application and specifications.
Limited Liability Company Vladikavkaz Technological Center "BASPIK" is a scientific, technological and industrial complex, specializing in microchannel and fiber-optic technologies during over 25 years.
For more information